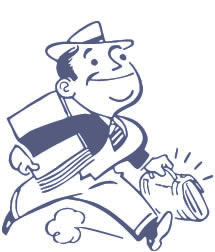 Are you running a small business — or is your business running you?
Many business owners struggle with long hours, frustration, and the feeling they just aren't earning what they're worth.
Family Business Coaching
Most small businesses are family owned and operated. For over 20 years, Art Zavarella, principal of VisionScope, has been helping hundreds of small companies, in the Boston area and points beyond. His clients have found innovative ways to:
Work fewer hours
Develop a more effective and dependable team
Increase profits
Personal Business Coaching
Every business owner needs advice and counsel at some point in their career. VisionScope can be your coach, too. VisionScope specializes in small firms, just like yours. Art has worked in all aspects of business, in many different industries. His clients have included:
Professionals in a sole practice (accountants, lawyers, sales people)
Family firms
Contractors of all types (roofers, other trades)
Manufacturing and engineering firms
Executive Business Coaching
Working one on one with VisionScope, you'll get what every business owner needs:
An experienced third party
A trusted counselor and advisor
Someone who sees the business as a whole, not just its parts
Someone who has been down the road before
Someone to help you implement the changes you need to make
How VisionScope does it:
A holistic approach: You'll learn how to get your business to fit better into the rest of your life. You'll focus on the root causes of business problems, not just symptoms. You'll tune in better to the management side of running your business, including the people issues, the financial demands, business planning concerns.
An individualized approach: Art's approach will be tailored to your strengths and your unique personality and character.

Your vision of success: At VisionScope, the work often starts with a few questions:
Why did I decide to go into business for myself?
Why did I start my business?
Why did I pick the business I did?
What will your business look like, "when you've made it?"
Whatever your goals, Art can help you find and keep on the path that gets you there.
Work-life balance: How soon do you want to say?:
"I turned my business around, and I've got my life back!"
I'm making the money I need and I have the time to enjoy it too.
I am away from my business and it is making me money and new customers.
"I left my briefcase at work, and I don't need it tonight!"
Personal business coaching — starts with a conversation — and at VisionScope, the first one is free. You can select a program of coaching sessions that will meet your needs, on your timetable, within your budget.
New. Now offering long distance business coaching.
Contact Art today to schedule a complimentary exploratory meeting: 978.664.6982